The Buffalo Bills were easily beaten by the Green Bay Packers in a 22 to 0 shutout on Sunday. The Packers were wearing their alternate uniforms, which looked like Michigan tops and Notre Dame bottoms. Either of those college teams probably could have beaten the Bills as well on Sunday.
The Packers went up early with two touchdowns but after that it was a game of threes -- three point field goals for the Packers and three and outs for the Bills. The Bills finished the day with 7 of their 12 drives being three and outs and they are on pace to set the NFL record in a bad way. To be fair, the Bills could have gotten it mixed up that the Ryder Cup was happening on the same day and they might be very proud of the fact that they shot "par" that afternoon.
Jerry Hughes must have known what was coming based on his actions early in the game when he was held badly on a play. To protest to the refs, he was flailing his arms up in the air trying to get a call. Upon reflection, I think he was making S.O.S. signals to any planes overhead hoping that one of them would rescue him from the disaster that was happening on the field that day.
The first decent play for the Bills happened when Tremaine Edmunds used those "wacky waiving inflatable arm flailing tube man" length arms to tip a ball which was then tipped up again by Jimmy Graham before being intercepted by Jordan Poyer.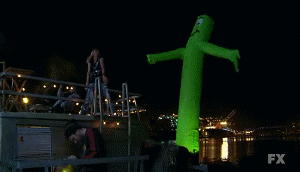 Finally, I had experienced joy for the first time on this Sunday but of course the Bills would kill my buzz with another three and out. Conversely, this would actually increase my buzz because I started drinking faster.
Part of the reason for the Bills poor performance on offense, was that Josh Allen struggled for much of the afternoon. He was wildly inaccurate, with overthrows being the biggest culprit. It was almost as if he was a little too juiced to be playing against the legend Aaron Rodgers. That and the Bills were sacked 7 times by the "Sack Pack" so Allen was probably seeing ghosts on the field as well and not the friendly type like Casper.
Speaking of being friendly, Josh Allen decided to share the ball with the other team right before the end of half. It was a poor decision but that is to be expected when grooming a rookie. The good news was prior to the interception there were some decent throws on this drive and a completion to Kelvin Benjamin who I was starting to suspect was a ghost himself.
Green Bay did not relent, pushing the ball straight down field despite there being only 43 seconds when they started the drive. Mason Crosby sent them into half with a 52 yard field goal for a 16 to 0 lead. When the second half opened up, they would add another field goal increasing their lead to 19 to 0. 
Early in the fourth quarter, there was another flash of joy for me when Taron Johnson strip sacked Aaron Rodgers and Kyle Williams recovered the ball at the Green Bay 48. Once again, the offense was there to rob me of any happiness that I was hoping to experience while watching this game.
Unable to handle the pressure of good field position, the Bills offense moved backwards with Josh Allen taking back to back sacks for a total loss of 18 yards causing another Bills punt and a wasted opportunity to score points. Green Bay notched one more field goal before the end of the game putting the Bills out of their misery with a 22 to 0 score. 
The afternoon was pitiful for the Bills offense. They didn't even get in the neighborhood of Mr. Rodgers end zone. For someone who is supposed to be considered a friendly neighbor, Mr. Rodgers wasn't very neighborly to the Bills because he didn't share any points and he didn't seem to want play with anyone on their team except for punter Corey Bojorquez who had eight punts on the afternoon.
The real kick in the balls came after the game when Aaron Rodgers, who threw for 298 yards and whose team had more than 400 yards of total offense, in a post game interview said, "It was as bad as we've played on offense with that many yards in a long time." Talk about first world problems -- that type of performance will get you a parade and the key to the city of Buffalo. 
Despite a tough opponent, seeing that many three and outs, then watching the Bills get shutout, left me feeling pretty down and out on Sunday.
Please reload